Have you had a chance to get acquainted with the new Lyyti Marketplace-feature? If not, this blog post is a great place to start. Lyyti Marketplace is here, and it will turn Lyyti into an even more versatile event management platform.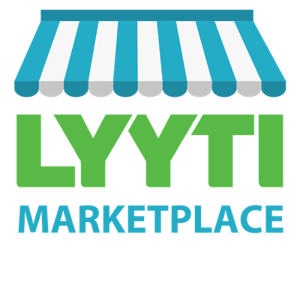 What does it do?
As you know, it's possible to integrate Lyyti with other systems and software in order to transfer event and participant data. That data can then be processed and taken advantage of in various beneficial ways, according to the needs and wishes of the user.
Lyyti Marketplace is the place where you can browse and purchase system integration products for your own use. Lyyti users can see the available keys-in-hand solutions at a glance and get the ball rolling on aqcuiring one whenever they please.
Lyyti Marketplace is basically a shortcut on the buyer's journey. Is there something missing from your event management process, something that Lyyti can't offer? Maybe an email marketing tool, or something to make seating arrangements easier to plan? Have a look in Lyyti Marketplace, click on the tool or integration you want to add, click the button and we'll take care of the rest. Quick and easy!
You can purchase solutions in Lyyti Marketplace with total confidence. We've hand picked every single integration partner and overseen the building of the integration. You don't have to worry about comparing and trying out a bunch of different tools. There's no messing around with free limited trials, and you can be entirely sure that whatever solution you choose in Lyyti Marketplace, it will do what it says on the tin with 100% Lyyti compatibility guaranteed.
Along with integration solutions, Lyyti Marketplace offers native add-ons for Lyyti. You can order e.g. the Lyyti Designer tool or additional user accounts for your team.
Where is it?
Lyyti Marketplace is a page in Lyyti. You can access it by clicking the Marketplace navigation link in your usual Lyyti window. It looks a little something like this: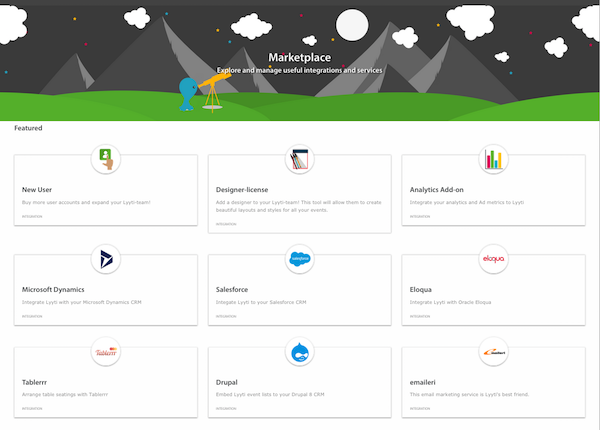 What's in there for the moment?
Just like Lyyti in general, the Marketplace is constantly growing and evolving. At the moment, these solutions are available:

Available Lyyti add-ons include the Designer tool, an analytics extension and additional user accounts.

When will it go live?
Lyyti Marketplace is open for business! Sign in to your Lyyti account and have a look, and please tell us what you think!