When recruiting a new team member, the main goal is obviously to find and employ someone who meets criteria and matches the rest of the team. But a recruitment process has other effects too. It is a perfect opportunity to strengthen a brand image and to create a good reputation as an employer.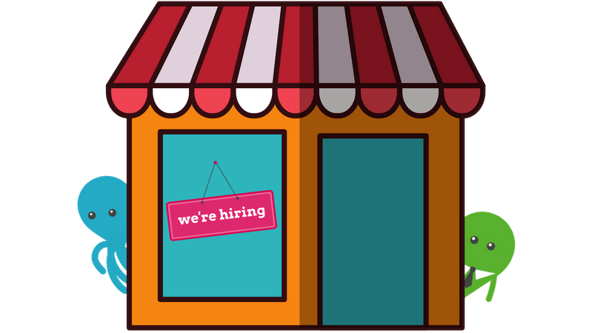 Company culture and values are easily conveyed during a recruitment process. Part of the process being public, multitudes of possible future team members will form their opinion of your employer profile based on it. The way a company treats its current employees speaks volumes about how new and potential employees can expect to be treated.
A job applicant is just like a customer, they deserve to be met with appreciation and dedication. A well executed recruitment process is transparent and timely, the applicant is kept up to date with the progress and knows what to expect. Perfect recruitment communication means that the applicant takes away a good experience and a positive impression, whether they were picked for the position or not.
Effortless and supportive
Finding a job is a full-time job in itself. Someone looking for new opportunities can write over a dozen applications a week. Sending one out, they never know what the reaction will be- instant confirmation of received application or never to be heard from again? Writing one application can take hours, not to mention clicking an Apply Now-link and finding the world's most tedious and unflexible application platform. It's either that or the emails and attachments galore...and somebody has to read it all too.
Applying for a job, or finding someone new for a job, can never be made too easy. The less effort a job application requires, the more applications are going to be sent in. A simplified process benefits both parties, time is money after all.
Best case scenario: A simple application page that clearly states everything the applicant needs to know right there and then and what information is required from them. Possibly a line or two on what kind of information they'll need to provide at a later point. Distractions like specific file type requirements for attachments or my pet peeve- uploading a CV just to have to fill in the exact same information in an additional form from the late 90's- need to be gone forever. The future is now, we should be able to apply for jobs on a mobile device.
Good communication is nerve-soothing
From a job seeker's point of view, the application itself is just a start. Uncertainty becomes a daily companion. Did they receive my message? Can I expect to be interviewed, if so, when? When will the decision be made? Good communication answers all these questions and keeps the applicant both engaged and informed.
The employer- or recruiter- on the other hand, is inundated with spreadsheets and checklists and messages. Every little tool that can help with the process of sifting through hundreds of applications, is a welcome break. It's hard enough to find and choose The Right One, and we must remember that there's a thinking, feeling human being behind every single application. Besides the applicants, the managerial level and the rest of the organization need to be kept up to date about the process.
Leave a mark
Great recruitment processes are talked about. They are noticed and copied. This is a two-way street, though. Watercooler discussions about poor recruitmant experiences can be heard everywhere. People do remember them, and they remember to mention the culprit, too. A sluggish and opaque recruitment process will make a company look shifty and sluggish, too.
A recruitment process is a peephole into company culture. Even just the visual look and content of a recruitment ad will leave an imprint. A unique recruitment add can raise questions, emotions and inspiration. It speaks volumes about the team and the company behind it- in a best-case scenario it goes viral. A recruitment process is an excellent tool for building brand awareness and employer image!
We've written a guide for all HR professionals who plan and execute communication around events like training sessions or recruitment processes. Have a look, it's free to download!