We get a lot of questions and comments regarding our 'strange company name'. In this blog post we want to share the origin of the name Lyyti with all of you and give an explanation to why Lyyti is the perfect name for us.
Lyyti is a perfectly normal girl's name in Finland, particularly popular around the beginning of the 20th century. It's a colloquial version of the name Lydia, and stars in a figure of speech known to most, possibly all, Finns: Lyyti kirjoittaa. The literal translation is "Lyyti is writing". Who is Lyyti, and what is she writing?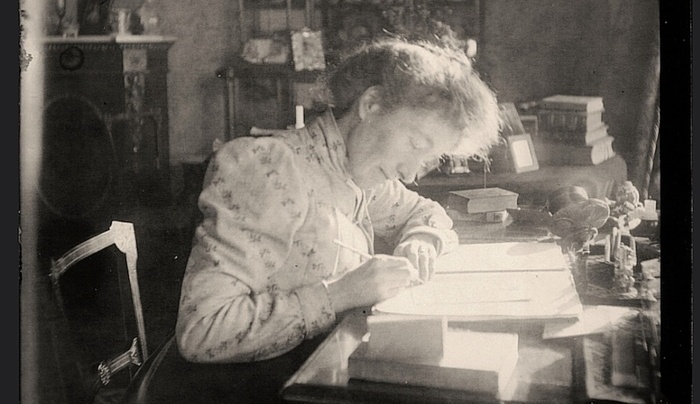 (The lady in this illustrative picture has nothing to do with the original Lyyti, we just thought she looked nice right here. Source)
Allegedly, the lady behind the metaphor was Lyydia "Lyyti" Hietala (nee Harmaala, 1884) from the village of Elämäjärvi. As a teenager she, along with so many Finns during that time, left home and travelled to the USA in search of a better existence. Lyyti settled down, married and started a family, but for some reason she decided to return to Finland some 10 years later. She remarried, had more children and lived in the village of Pyhäsalmi until her death in 1948.
Lyyti was known as a helpful, thrifty and wise woman. On top of the everyday duties at the farm, she made and mended clothing for the community. Having traveled more than most her peers, Lyyti had seen and learned a lot of things and was known to give good advice on almost anything. She also knew how to write and read, which wasn't a given in rural Finland at that time.
Lyyti would help others with their correspondence when they needed to order supplies, take care of official matters, or contact a family member far away. She would use her connections to find things out, write the necessary documents and letters and then either mail or hand-deliver them to the recipient.
When a villager needed help with sorting something out, they would go to Lyyti and ask for her advice and help. She would get on the case, and the villager could relax, go home and say "It's fine, Lyyti is writing." Basically, when "Lyyti is writing", everything is going to work out and be just fine.
That's the story behind our name. We want our clients to be able to do the same: sit back, relax and let Lyyti take care of business. Besides practical help, Lyyti provides advice and knowledge that's sourced from years of experience in the event management field.
This is Lyyti's very first logo, retired in late 2015. It is hand-written by another wise woman, the CEO's wife.
The story of Lyyti Hietala has been told, written down and passed on by her daughter Martta Vainio.