Create first-class events with impressive visuals
In successful event marketing, small things make a huge difference. Lyyti makes sure that you have everything under control, throughout the whole event lifecycle.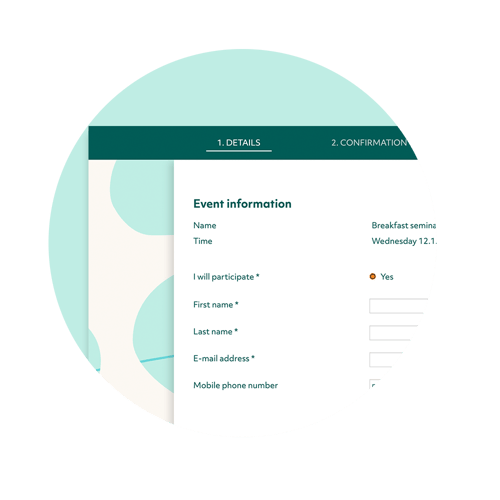 Branded registration page and invitations
Make sure your events look and feel like you! With Lyyti, you can create personalised layouts for your registration pages and invitations. Our customised designs offer you colours, fonts and other visuals that match your brand and event to perfection.
Connect Lyyti with your webinar tool
With zero technical effort from your part, Lyyti's Online Event Connector links Lyyti to the online meeting software of your preference. It's a smooth and safe way to invite participants to your online event and check their attendance at the same time. All automated, of course.
Event website & event
app
Where can your participants find all the information they need about the event? Compile all the details on your event website – no coding skills required. By saving it on their home screen your guests can use the website as an event app on their smartphone. Way to boost participant experience!
Mobile event check-in
app
Check in your participants with Lyyti's mobile app, and you're on your way to creating a well-targeted post-event workflow. Knowing who attended your event is priceless information, especially if you want to reach your target groups in the latter part of the event lifecycle.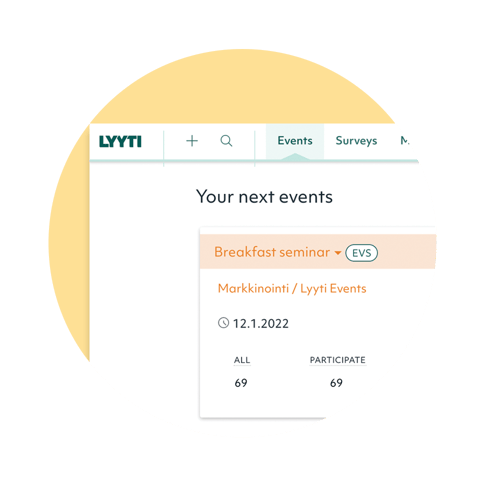 Focus on connecting with your crowd
Managing participants and communications should be quick and undemanding, something that you never have to worry about. Focus on the content and let Lyyti do the heavy lifting.
Email and SMS automation
Reminders are a powerful method to reduce no-show. Emails are useful, but they don't always do the trick. That's why you can also send out scheduled and well-targeted SMSs directly from Lyyti and trust your communication with Lyyti's automation.
Drag & drop email editor
Create visually impressive and distinctive emails with Lyyti's drag & drop editor. Make your recipients feel special with personalisations and use dynamic filtering to reach each target group with the right message. Remember to follow up on your email performance.
Waiting list
For a responsible event organiser, capacity management is key. If you make it easy for your participant to cancel their registration, it should be just as easy for the next one in line to accept your invitation. Lyyti's automated waiting list helps you do all this, with zero manual effort.
Ticketing
Collecting payments in advance is a great way to commit your participants to attend, and it also means less work for you. Lyyti's payment tool allows you to sell tickets and collect attendance fees in a fast and safe way. We accept most credit cards and offer intelligent fraud protection.
Measure, optimise, report
Focus on the aftermath! Learn from your participants, grow as an organiser, and prove the effectiveness of your events.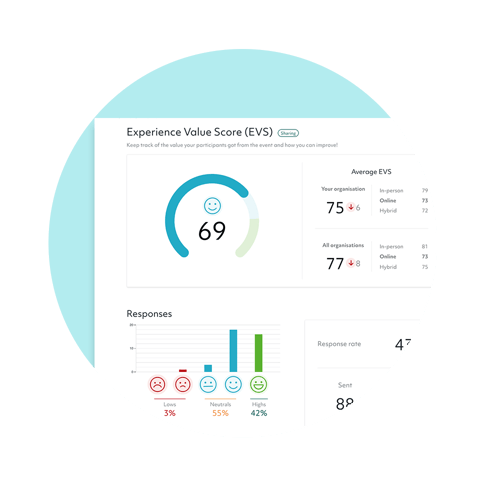 Ask for feedback
Guessing doesn't take you very far. Ask questions to develop and improve your event activities. Use the survey tool in Lyyti to collect feedback from your participants – then manage, analyse and distribute the results through graphical reports.
Measure participant experience
Discover the new North Star Metric for measuring participant experience! The Experience Value Score (EVS) is a new standard for measuring event success. It allows you to evaluate the experienced value of your participant and consequently prove the effectiveness of your event.
Reporting and managing
event data
Share what you know. Create relevant and concise real-time reports on your event and participant data in just a few seconds. You can also export your information into XLSX and CSV files plus other online software, such as CRMs and marketing automation systems.



Integrations & REST API
Thanks to our open API, Lyyti integrates with most marketing platforms and CRM systems. Use integrations to track, acquire and engage customers during the entire lifespan of your event, and enjoy the aftermath by transferring your event data straight from Lyyti into your CRM and marketing.
Explore Lyyti's REST API >>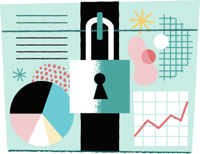 Data security and protection
Lyyti is a safe and reliable partner.
A high level of security is of primary importance to us. When you entrust Lyyti with your event data, you can relax knowing that it will stay safe. Lyyti is 100% committed to complying with the GDPR, and we offer all our users and clients the possibility to do the same; Lyyti gives you everything you need to manage your participant data safely.
Customer success and support
We're more than just software.
Customer support
Our customer support is your loyal event management ally. We not only answer your questions and help you solve problems but also coach, encourage and challenge you in how you manage your events. You can reach us by phone, chat and email.
Knowledge base
If you're keen to learn more, and prefer finding answers yourself, our knowledge base is here to serve at any given time. In addition to practical step-by-step instructions in the form of how-to guides and video clips, you'll receive our event management best practises and benchmarks.
Online training
Check out our training calendar for regular online training on Lyyti's functions and features. In addition, you can find on-demand recordings of earlier sessions, ready for you whenever you have the time and feel like learning more. Naturally, these online courses are free of charge.