Agile development methods are familiar in many industries since a few decades back, but these practices haven't reached events for some reason. That's where Event Success Management steps in by bringing these proven models into the event industry. The concept combines agile methods of software development with traditional event management processes. Because of this new combination, the terminology might not be familiar to everyone. That's why we're now introducing 16 of the most important terms you need to know to understand what Event Success Management is all about.
1. Event Success Management
Event Success Management is a methodology that helps people who work with events to systematically develop and improve the participant experience in their events and reach the goals they've set.

Everything is based on the idea that all events are comparable through the participants and their experiences.

The systematic development happens through agile processes that follow the

agile approach

.
2. Event Success Manager
A person in a company or organisation who works with events and is responsible for systematically managing Event Success.

The focus is not on the practicalities of a specific event but on managing the big picture.

An Event Success Manager is passionate about continuously improving the participant experience and thereby events themselves.

This person facilitates and helps out at smaller external events and internal gatherings as well. Their focus is not only on separate large-scale events.
3. Traditional event management
Believes that all events are unique.
Focuses mainly on larger and more complex events.
In traditional event management, there's no systematic process for improving events.
4. Event
Event Success Management defines an event somewhat broader than traditional event management.
An event can be many shapes and sizes: internal and external; live, hybrid or online.
5. Event Cycle
According to Event Success Management, an event consists of five different stages and together, these stages constitute the Event Cycle.
The stages are 1. Plan, 2. Organise, 3. Measure, 4. Analyse, and 5. Share.
Traditional event management typically focuses on phase 2 (Organise), which means that the focal point is more on event specifics and practicalities than systematic and continuous learning.

By persistently repeating all the phases of the Event Cycle, you'll take small but significant steps towards the right direction and create big changes in the long run.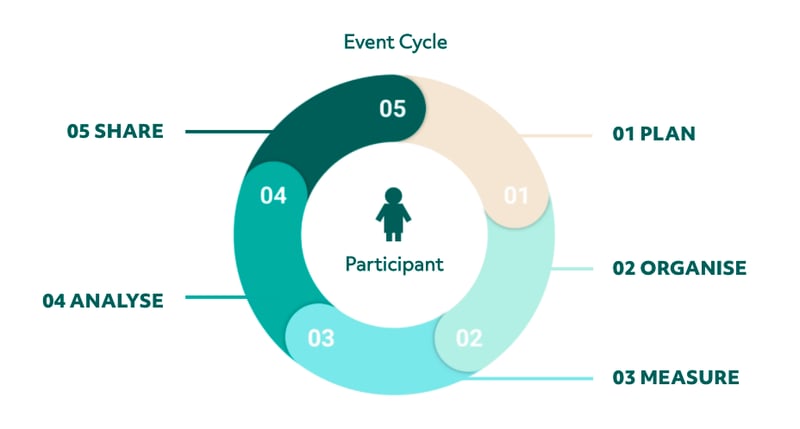 6. Event stages
Pre-event: all the things you do before the event; planning, setting targets, invitations, communication etc.
During the event: all the things that happen during the event.

Post-event: all the things that happen after the event; collecting feedback, retros, measuring and sharing results etc.

Because the participant experience starts from the first point of contact and continues for an indefinite time after the event has ended, Event Success Management aims to impact all the stages of the event lifecycle.
7. Agile development
Event Success Management taps on the agile approach that was initially proven effective in software development. These agile methods ensure that you can continually develop your events and reach the targets you've set for them.

Typically, agile development helps (software) engineering teams deliver value to their customers faster and with fewer problems. Respectively, it makes it easier for an event organiser to create better events and enhance the participant experience.
8. Retro
You can use the term Retro or Retrospective.

It is a meeting you organise after every event. This session can seem pointless after a hectic event, but this is the moment that defines how much you've learned and how much better you'll do in the next one.

During the session, you discuss what went well and what didn't and what you would do differently.

It's essential to compare the results of the event with the initial targets you set before.

All relevant parties should participate in this meeting.
9. EVS
Short for Experience Value Score.
The North Star Metric of Event Success Management.
Event Success Management is based on the idea that all events are comparable through participant experience. EVS is a tool that measures this experience.

After each event, Lyyti automatically sends out an email to all attendees with the statement, "The event was worth my time". The recipient gets to choose between five options: Strongly agree; Agree; Neither agree nor disagree; Disagree; Strongly disagree.

The EVS score is something between 0 and 100.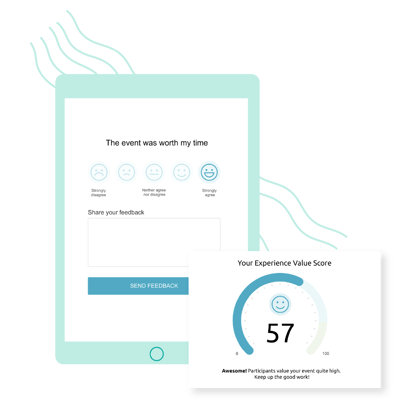 10. Participant experience
A participant's subjective experience of the value they believe they gained by attending an event.

Event Success Management is based on maximising participant experience.

EVS measures this experience through the statement "The event was worth my time".
Better participant experience leads to better business.
11. North Star Metric
A North Star Metric is a stand-alone number that indicates if you're moving in the right direction.
The North Star Metric of Event Success Management is EVS. EVS ensures that you can measure your events in a unified and standardised way.
Using this North Star Metric ensures that you focus on the essential thing: maximising participant experience.
12. Success
Success in this context means achieving the targets that are set for events.
In Event Success Management, success always points to the participants and their experiences and was the time spent at the event worth their time.
13. Event Success Platform
A software that helps you succeed with your events.

It's not just a tool for organising singular events instead Event Success Platform aims to support organisations in developing their events.
14. Event Success Team
A team that works with events by implementing the Event Success Methodology.

In addition to Event Success Managers, the team can consist of other experts as well.

The team is goal-oriented and focuses on participant experience and continuous development.

EVS is the team's North Star Metric.


The team sees events as a whole and systematically manages Event Success.
15. Event Success Community
A Facebook community that consists of people who want to change the event industry and develop events according to the Event Success Methodology.
16. Impact
Events are an excellent way to create a strong impact.

Event Success Management helps the organiser maximise this impact.

An impact is an abstract concept based on a participant's subjective experience that we aim to measure with EVS.

We believe that you're more likely to reach your event goals when you create a vast and positive impact.
Let's get to work! At Lyyti, we're leading the change in the event industry towards Event Success Management and want to guide you on that journey.