Event Success Management
The event world has been disrupted, and best practices are gone. To succeed with events in the post-covid era, you have to learn a new set of skills. It's time for a paradigm shift!
The methodology
Event Success Management is paving the way for rethinking how events are run and driving new energy into the event management community.
Event Success Management is a methodology developed by Lyyti and it combines traditional event management with agile thinking. By strengthening the fundamentals of event management with elements like measurement and analysis, you're able to improve your event management and create experiences that are appreciated by your audience and learn more from your process.
Event Success Management is a way of working that links together all the events that a business or an individual organises to create events that are worth the participants time. Agile thinking builds up the foundation laid out by traditional event management in order to effectively and successfully plan events.
Events are created to cater a participant and their experience is what counts the most. As an event organiser you are responsible for the most precious of commodities - time. You need to treat that time investment with great respect. Improving your events over time will help you create better experiences and achieve the goals you set for events. Event Success Management is a movement empowering you to reveal the true potential of your events.
In the world of events, average will simply not do. It's time to create meaningful events that are worth our time.
Traditional Event
Management
Focus on planning & managing events

Events are marketing or entertainment

All events are unique

From event to event

Group of event organisers
Event Success
Management
Focus on participant experience

Recognising that events are all around us

All events are comparable

Continuous improvement

Event Success Team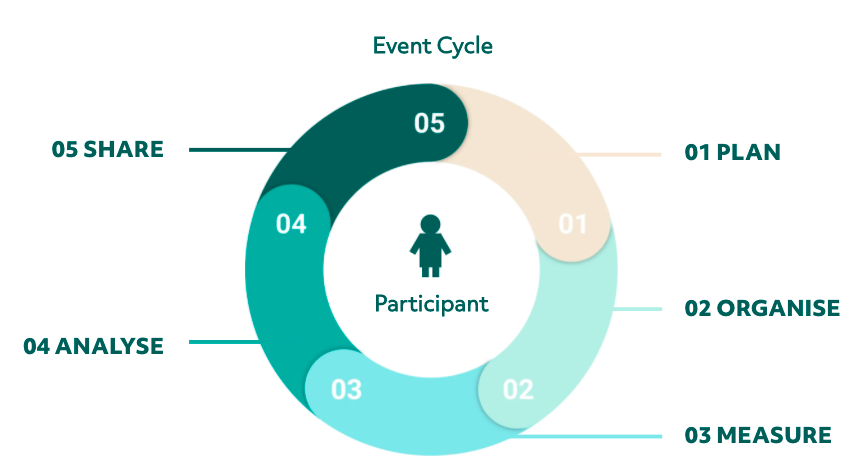 The most fundamental element of the Event Success Management methodology is the event cycle. The event cycle illustrates all the stages of a successful event from start to finish. The participant is in the heart of the cycle. Every decision and action should be weighed against how it will affect the participant's experience of the event and if it will make it better or not.
Continuous learning
Event Success Management works because it focuses on improving participant experience through consistent learning cycles. The business impact will follow.
Event Success Management is based on the idea that long-term and continuous development of events will lead to the best outcome. Even though Event Success Management leans on measuring and analysis, it doesn't take away from the importance of events in general - quite the opposite.
Well-executed events are a powerful media to raise brand awareness and strengthen customer loyalty. Events often leave strong impressions and create deep emotional connections, so it's worth investing into events that matter.