The world of events has changed during the pandemic. There's no shock in declaring that, but it does lead to the questions, how has it changed, and what does that mean for me? Even more important, what can I do to have successful events in 2023. That's where we come in, with a guide to the basics along with the very best of practice that will have your events bring in the results, time and again.
Since the pandemic, there's a greater expectation than ever from attendees that any event they attend will deliver for them. For those organising, that means a need to create a system to improve the experience of their events continuously. However, this has always been a problematic goal when working on a disparate group of events with no apparent connection.
Finding that thread of commonality and using it to adopt a modern methodology that allows everyone in an organisation to benefit will result in a company that becomes a champion of events.
We have already declared that traditional event management is dead, and Event Success Management is the future. Without restricting ourselves to that alone, let's go step by step through the processes in running successful events in 2023.
What is an event in 2023?
Too often, the attitude is events are big one-off affairs existing separate from everything else as a huge project for all involved. Size is relative, but the viewpoint is often to think about events in terms of something taking place for an external audience with 50 to 10,000+ attendees, whether in person or online.
It's time to recalibrate that thinking in two ways.
Firstly, the road to success in events in 2023 is to understand that a lot more happenings should come under the umbrella of events. For example:
A regular team meeting of eight people
A monthly company meeting for all staff
A one-off catch up with a group of customers
Adopting the concept that almost anything can be an event feeds into the second change in thought. Events no longer exist in isolation from each other. The topics may be as wildly different as you can imagine, but it's possible to compare them from the same base using a common way to measure event success.
It's also essential to recognise that the format of what makes up an event has evolved. It used to mean everyone gathering at a specific geographical location, but hybrid events and online events are becoming ever more acceptable to many.
The importance of event marketing in 2023 hasn't changed, merely some aspects of the delivery.
How to successfully create an event
Some events may already have a topic and name set; others could require you to work on those as part of the first step. However, understanding why someone will attend your event puts them at the centre of your thinking from the outset.
Think about it: running any kind of event spends the most precious resource for you, your company and the attendees. Namely, time. We can't make more of it, so using it wisely is the next best thing.
Making event attendees the focus, rather than your desired business outcomes, is a pivot you have to make in 2023. The sheer volume of events means success will come to those who differentiate themselves from the pack by showing how they value the time of those attending.
We understand there's a cost to holding an event, and everyone has targets to meet, but by opening yourself to the customer-centric approach, you'll see two things:
1 - Attendees who are happy they spent time at your event are more likely to lead to positive future business outcomes. They'll be more receptive to further messages from you and building business relationships.
2 - By measuring their opinion of the event using Experience Value Score, you can identify actions to improve after each event, meaning better future outcomes.
All of that means that establishing the needs of your attendees must be your number one priority. In 2023, this approach will allow you to separate yourself from the competition, still stuck on putting their aims first.
Once you have that settled, then you can move on to setting your goals. You may have several metrics to consider; for a marketing event, it could be in terms of the number of registrants, actual attendees or sales leads generated. It could be something like ensuring the whole company is informed of key developments for an internal event.
However, distil all this down to a single goal of what you wish your attendees to gain from the event and which single metric you will use to measure it. That will give you the individual event focus where Experience Value Score gives you the broad measure of success.
With these steps complete, you're ready to proceed.
Event marketing in 2023
This may feel like safe ground. After all, promoting an event is something you've likely done plenty of times before. Depending on the nature of what you're organising, you will, in truth, still need to hit many of the same targets:
Raising awareness
Manage registrations
Keeping registrants updated
Sending reminders
There are a multitude of event planning tools that can handle these tasks. Ideally, you would utilise an event tool that integrates with your CRM, but whichever route you take, from marketing emails to custom-made invites, keeping your audience engaged remains vital.
So, what's new then?
We've already covered the idea to classify a broader definition of happenings as events. This leads to a greater range of job roles getting involved in organising them. We're seeing events organised by HR, events organised by marketing and more.
With the number of people taking on this responsibility expanding, establishing an Event Success Team becomes a critical requirement to ensure you continue to succeed and develop your events across the whole company and not restrict lessons learned to a silo.
The tasks may be similar, but those undertaking them won't have the same experience as an Event Manager. To make your event marketing in 2023 as consistent and productive as possible, keeping everyone up-to-date on the best processes to follow and ensuring they are feeding back anything new they come up with is a must.
Whatever tactics you decide to use, be it content marketing for events or something else, it can be helpful to start from an example event marketing plan.
Successful running of an event
Whether live, hybrid or online, there's always a multitude of things that need your attention to deliver an event. It can be anything from event badges to managing speakers or ensuring the online delivery technology is working correctly.
Naturally, there are event platforms that can help with a lot of that process, but how do you get an edge in 2023 over what everybody else is doing?
Well, you could start by taking by considering the best way to run a secure event in the post-Covid era.
Then ensure you're maximising attendee engagement through the most appropriate channels. For example, event app software can help with live Q&As, polls, gamification and more. It gives it that extra interactive feeling that allows the attendees to feel closer to and more a part of the event.
How to follow up an event in 2023
The traditional event playbook would have you sending out a survey to measure how an event went, but response rates can be low and it's hard to know how to compare different events effectively. Moreover, with the fuller interpretation of what should be considered an event, a survey could be overkill in some cases.
"If you always do what you've always done, you'll always get what you've always got."
– Unknown Person
This quote has been attributed to various people, so its true source may be in question, but the meaning is undeniable. Sending that survey and gathering the results in isolation isn't taking you or your colleagues anywhere in the future. It's a tired system that has run its course.
This is where innovation in events comes into play for this year. Now, as soon as every event is over, attendees automatically receive a single statement to grade that is identical for every event:
"The event was worth my time."
The purity of this Experience Value Score system creates a standard scale against which you then can compare every event. The power of this should not be underestimated.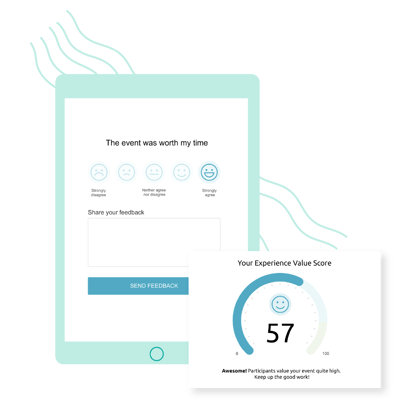 Having a system to measure the event's success compared to others doesn't change some of the other tasks you need to complete.
Depending on the nature of your event, you may still need to segment data to gain a clearer understanding of who attended, nurture potential leads and create engaging post-event content.
Remember, though, those actions alone are no longer enough in 2023. They focus on the event as a single block rather than part of an ever-growing and continuously improving tower.
Reviewing an event for improvements
Phew! It's done. That moment of relief when the stress of delivering your event dials down as you sit there, satisfied with a job well done. Lessons were learned, but the most important thing is the business goals were (hopefully) met.
Time for a coffee and then on to the next one, right?
No. No. Three times no.
You must see a successful event left in isolation from the rest of your organisation as a business failure in 2023.
Sit down with your team and hold a post-event retrospective. Analyse what worked, what didn't, what you would do differently and what you will take forward to your next event.
This might already be part of your process. However, now you're able to undertake a comparative exercise against other events using the Experience Value Score, along with analysing any additional feedback received.
With that complete, summarise everything worth knowing, positive and negative, from the experience and then share these key findings within your organisation. Never has the saying sharing is caring been more appropriate.
The thing to remember from all of this is that event success in 2021 relies on seeing no events as unique and separate. Each is part of the chain to long-term and sustained improvement.
Building Continued Success In Future Events
With everyone following the same process in your organisation, you'll all be receiving regular updates on ways to run better upon better events. An improved event experience means happier attendees. Happier attendees result in better business outcomes.
This strikes to the very core of Event Success Management.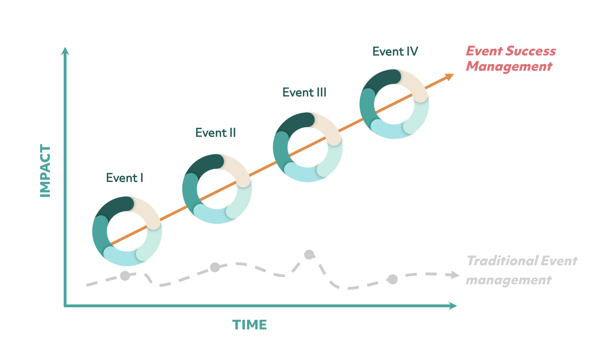 Companies that view events as a single sprint race will quickly fall behind those who understand each event is part of an ongoing race in 2023. Now events are closer to laps of a track where your times get faster and faster because you improve your technique each time you cross the finish line.
What's next in the events industry?
The months and years ahead are going to see the impact across the industry of Event Success Management.
Those who adopt the methodology will continuously improve their whole range of events. Those sticking to traditional event management may create individually brilliant events. However, they still will, over time, lose ground to those constantly getting better. It's a black and white case of winners and losers, where a single battle might be lost, but the direction of the war is inevitable.
Meanwhile, the embracing of online events isn't the end of live events by any means. It will simply result in more choice and more competition as some aspects of putting on an event get easier. It may even be that hybrid events become the standard.
However simple the event tools make the process, running an event where the participants feel their time was well spent is much more challenging. Changing to the mindset where this is central to your approach may prove a challenge, but the potential rewards are enormous.
At Lyyti, we're leading the change in the event industry towards Event Success Management and want to guide you on that journey. Our event software understands everything you need to run an event smoothly and speaks to your CRM software.
All it needs is you.