The Salesforce CRM system is widely used in Lyyti's home country Finland and the rest of the Nordic countries. Now it's possible to integrate Lyyti and Salesforce for an even smoother event management experience.
Smarter contact and client data management
– The main thing is to make data sharing as painless as possible. When client and participant data is automatically transfered between systems, one can always be sure that the information is up to date, says Wilhelm Törnroos, developer and integration mastermind at Lyyti.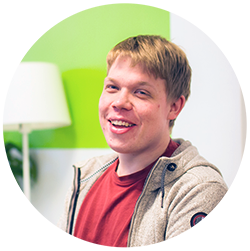 Lyytin developer Wilhelm Törnroos, the man behind the Salesforce integration

The integration is set up in two steps. The first one is for the user to determine which bits of information need to be brought from Salesforce to Lyyti. Absolutely every single snippet of client information isn't relevant for event-related use, after all. After that, the fast and simple technical installation is executed. Lyyti then has access to the campaign structure in Salesforce, where a corresponding campaign can be created for each Lyyti event. This way participants can be added to an event directly from the Salesforce campaign.
– When the configuration is done, the user doesn't need to spare the integration another thought, it will manage itself. There's no more excel sheet guest lists to update and email back and forth-I can think of several more interesting things for an event manager to concentrate on, Wilhelm summarizes.
The GDPR has, naturally, been taken into account when developing the integration.
– If a participant doesn't want to accept the privacy policy or enter a register and ticks the box in Lyyti, this information will automatically show up in Salesforce as well, Wilhelm adds.
The work continues
Event though the Lyyti-Salesforce integration is ready to use as it is, the development work goes on. The driving force behind it is user feedback and client requests.
– The more users we have that adopt this integration, the more we receive improvement suggestions and descriptions of very specific user needs. This feedback is so important for us developers, because it allows us to prioritize and work on the features and areas that are most important for our users, Wilhelm emphazises.
There's more information about integrations and where to get them on our website: Click here to have a look!