As you may well know, Lyyti started as a family-owned software company in the small city of Turku, Finland. During the last couple of years, we've worked very hard for growth and internationalisation, and by now we've already established subsidiaries in Paris and Amsterdam. Like so many other industries, the Covid-19 pandemic has also struck us hard, and all our teams have been in constant fight mode to survive. This is the story of our resourceful team of five in the heart of Paris, in their continuous battle for our beloved event industry.
During these past months, the world has changed fast. When the French state announced the first lockdown measures in the spring of 2020, we were taken by surprise by the speed of it all. At that point, we were still kind of hoping that this little flu would be behind us in a few months so that our traditional event business could pick up again. But then the French media leaked Boston Consulting Group's estimate of how long the lockdown would last. Enormous amounts of people were hospitalised at an alarming speed like in our neighbouring countries Italy and Spain, and people in France were filling their food reserves at home in a panic. Was this the end for us..?
The easy way, or our way?
We had the choice of taking the easy and popular way out and accept the French Government's COVID support program. That would have meant that our team would have been put on temporary unemployment, with a significant part of their salaries withheld. All of this so that we could secure cash for our company and survive a bit longer. (This would basically have meant that our Junior Event Strategist, Lucas, could not be part of our team today).

Instead, we decided to make our own destiny and do everything we could to keep our activities up. It was essential for us to show that we all believed our team was stronger than the crisis. This incredible team has continuously evolved since the creation of Lyyti France in 2017, and during these past years, every team member has become very agile. So, we agreed to go all in and not slow down, and we even announced it publicly; now there was no going back!

Morgane, our Event Strategist, recently shared that the lockdown would've been an even harder mental hit without the daily work giving structure to her weeks. With this in mind, I think the temporary unemployment as a first choice would have been very costly and would have had far worse consequences in the long run.
Taking on the challenge
Our first big theme for Q2 was the #LyytiFranceChallenge. In this theme, we defined our objectives and key results (OKRs)* around the following topics: ensuring to sign new clients, keeping existing clients satisfied and keeping costs in tight control.

We'd been talking to our Head of FP&A and Strategy, Aleksi, about the challenge of making our OKR's more inspiring. What we needed in that crucial moment was the inspiration for everyone to give a hell of a fight and bring the team together and quite frankly, I think I was doing a lousy job. But then something happened. I was best man to one of my friends and was in charge of organising a bachelor party for him. One of the participants at that bachelor party was Mikko Koskinen, Head of Brand at Kyrö Distillery. Kyrö Distillery had an exciting story, and they had been very successful with their famous Napue Gin. During the corona crisis, these fellows in Ostrobothnia Finland had transformed part of their production to creating hand sanitiser, and in their external communication, Mikko finalised his texts with #Fuckcorona. We decided to join the movement and fight the virus our way.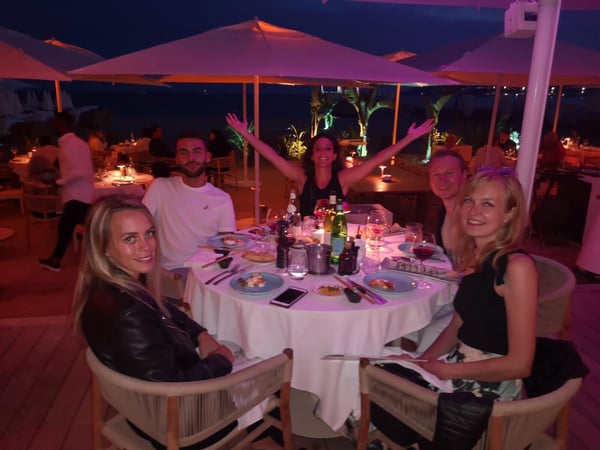 Team France at Heavent Meetings 2020 in Cannes.
#Fuckcorona
We started to think of ways to help France and Europe in the fight against the pandemic and the global panic it caused. After many brainstorming sessions and passing ideas back and forth, we decided to start with food delivery. We chose this target because we genuinely wanted to help; if people didn't have food, the panic would explode. Supermarkets were short of staff, and so far, very few players seemed to prioritise this sector. Many initiatives were already taken to help the healthcare sector, for example.

I've always believed that you make your own luck, but in this case luck was also on our side. In late 2019, I had a weird feeling about the world economy as it continuously broke new records. It made me more suspicious of new investments, and I started to focus on increasing our cash instead. I didn't expect anything like this, for sure, but I did expect a more traditional crisis in our economy.

At the same time, Carrefour, one of the biggest French stock exchange companies in retail, expressed their challenges in food delivery. Consequently, we were there at the right time to help, and our Customer Success & Intelligence Agent, Janita, did an incredible job together with their HR to make sure they had staff in their stores and could thus guarantee food deliveries all around France. And it didn't stop there. Our sales team led by our General Director, Tehani, put their instincts to action, and after a short quiet period, they were helping old and new clients with their current challenges. The team spirit skyrocketed, and #fuckcorona became our new motto!

It's been a tough fight, and it's still not over. Nevertheless, you've got to keep the faith. We fight for you, and I know we can count on you fighting for us. As the famous quote of Marcus Aurelius reminds us "What stands in the way becomes the way ", i.e. the road to success never comes without obstacles.
*At Lyyti, we believe that committing to specific goals helps improve employee performance and studies also support this. Furthermore, if these goals are detailed and challenging enough, they also support employer engagement in attaining them. Lyyti follows a goal-setting framework, called "Objectives and Key Results" (OKRs), to set goals and track progress. You can read more about the OKR model here.