Lyyti tends to come in handy in many different situations. As we're currently celebrating Helsinki Pride Week 2020, let's take a closer look at a few tips and tricks that our multi-skilled Head of International Operations, Maria, offered the organisers of Turku Pride in 2017.
The Story
When I first started to attend *LGBTQI events, I was super nervous. It was an exciting new world I felt I belonged to, but at the same time, it was a scary new world. Often when attending events, I would have needed a little boost of courage, especially if I was going alone. Maybe something like a welcoming text message or more instructions on how to get there and how to, well, be. Suddenly, in my mid-30s, I was a teenager again, trying to figure out how to to fit in.

As I was (and am) working in the event industry, I thought I could help the Turku Pride 2017 organisers and offer Lyyti to their use, and while doing so, get to know some people under the rainbow. I wanted to ease the organisers' workload by sharing my ideas on how to use an event management software in a volunteer-based B2C event with sensitive participant data. What can I say, me seeking for approval has always manifested itself in me being useful.

Here are some of the ideas we came up with.
Registrations
For the big masses, Pride is mostly about the parade, and for that, participant registrations are not needed. However, organisers do need to gather information about the Pride partners and sponsors, volunteer workers, groups who have their own designated section in the parade and so on. During the Pride week, there are a lot of events, seminars and workshops that could use a safe participant registration. Why? For better communication.
Communication
Whether it's for an individual event or Pride week as a whole, organisers can create a welcoming and encouraging feeling through personal emails and text messages. As a new Pride participant, I would have loved a message from someone saying "Hey, we're happy to see you, we're here for you." Also, I remember one year in Helsinki Pride I couldn't find the location of an event. I was in the right venue but didn't see any signs anywhere. A text message about details would have been super helpful, for when it comes to new and scary, the barrier to ask someone is much higher.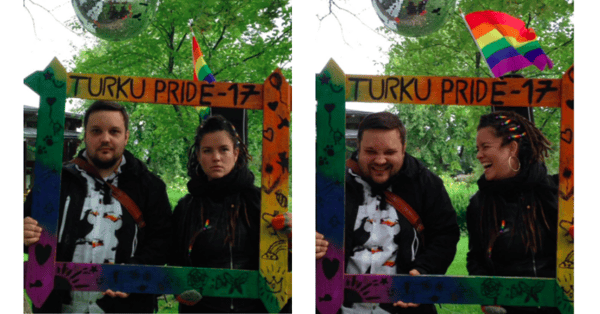 Why so serious? Maria and Ville at Turku Pride 2017.
Event application
All Pride Week information, events and registrations in an easy-to-build app? Yes, please!
Payments and donations
Pride merchandise, event tickets, sponsors and donations are an essential part of making Pride possible. Depending on the overall offering and prices, Lyyti's payment tool is something to consider. In the end, Turku Pride chose not to use it, but the idea is out there.
Feedback
How to make it even better next time? Ask your participants, sponsors, volunteers and stakeholders how they felt about the event. Even if you're not involved in the organisation the following year, your successors will easily find the feedback in the same tool as the events.

As volunteer-based events tend to have yearly changes in their staff and know-how, professional processes and tools help to keep the package together and standards high year after year. Also, offering their tool or service pro bono is an effortless way for an organisation to support an event and a good cause. A fabulous win-win, don't you think?

May your events be successful and your life full of love in all the colours of the rainbow 💚

P.S. Interested in more tips for using Lyyti? You'll find some here.


*LGBTQI is short for lesbian, gay, bisexual, transgender, questioning (queer), intersex.